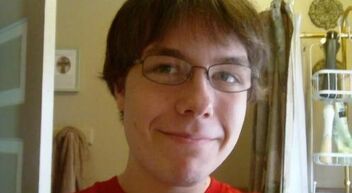 Jason Gastrow, better known as VideoGameDunkey and colloquially known as Dunkey (among other nicknames), is a YouTube personality on the channel VideoGameDunkey. He is best known for his gameplay, Dunkviews, and his League of Legends series, and he occasionally raps or even sings. He seems to be a big Smash Mouth fan as seen in videos like Super Duper Street Fighter IV and Shrek's Row: The Fourth.
Jason was described by the Urban Dictionary as "a semi-famous youtuber who has a mildly crude--yet funny sense of humor, with the use of mild sarcasm and witty sentences." 
He is also known by the LoL community as the founder of the catchphrase, "Not even close, baby!" This is said whenever Dunkey survives a match with low health, and has become something of a meme for the game itself. He is also known for his random anger outbursts, often when someone says that he has problems with his temper or aggression.
List of nicknames
Video Game Dunkey
Dunkey
Dunk
Dunk House
Dunkstin 
Dunk Ocean
MeatWadSprite 
Dink
List of songs
"Super Duper Street Fighter IV" (Super Street Fighter IV)
"Petters on the Low" (Red Dead Redemption)
"Petters on the Low (Payne Mix)" (Max Payne 3​)
"I Got It" (League of Legends)
"Get Dunkey" (League of Legends)
"New Rengar Build" (League of Legends)
"League of Legends Horse Rap" (League of Legends)
"Dunkey's Jam" (Glover)
"Rise of the Ops" (Call of Duty: Black Ops 2)
"Pet Me Horse" (n/a)
"Money Money Man" (n/a)
"LoL Cypher" (League of Legends)
"I Got It" (League of Legends)