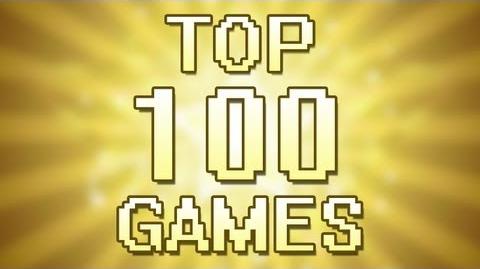 "Top 100 Games" is a VideoGameDunkey video released on April 7, 2013. It has over 350,000 hits and over 11,000 likes. The video is Jason Gastrow's list of his top 100 favorite video games, although the entire thing is just a joke fact. At just over fifteen minutes, it is the third longest Dunkey video ever made, following right before Trouble Turtle Town : Mystery of Gazoolgo, and Mineman 1 : Bai Bai Sun.
List of Games
Edit
96. Yoshi's Epic Yarn Island: Cookie Story
95. Vice To Meet You Missions
93. God Damn Wing Robots John VS The Damn Godspilla: Way to go Rex
92. Mortal Combat: Star Trek VS Whore
83. Madden Dynasty Mode 8
82. Madden 9: Return of the Madd
81. The 2010th madden game
71. Cookie Mama : Snorts Coke
68. Hey You Pikachu
67. [Not Listed]
66. [Not Listed]
63. Sleeping Dogs : Cop and Friends
62. Ballz (It's really called that)
54. The Elder Scrolls Arena
53. Ready 2 Rumble Boxing
52. Bad Boys : Miami Takedown
50. Uncharted : For Girls
39. WWF: Twisted Metal Ripoff
38. The Great Waldo Search
36. Tony Hawk's Pro Skater
32. Orcarina of Time : Crazy Taxi
31. Mortal Kombat vs Jackie Chan Universe
26. Conker's Twelve Tales
17. Tekken Tag Tournament
16. Woody vs Buzz Lightyear Universe
8. Terrist vs Swat Team Universe
6. Metal Gear VR Missions
1. Zelda II: The Adventure of Link
..
Actual number 1. is SUPER MARIO BROTHERS 2 BABY
Historians speculate that even though the "actual number 1" is SUPER MARIO BROTHERS 2 BABY the actual actual number 1 might be Knack III.